Some 45 minutes after the New York Knicks fended off the Memphis Grizzlies for a 111-104 win in their home-opener Saturday night at Madison Square Garden, Joakim Noah was dressing in front of his locker while about 45 journalists waited to get his take on his debut in a New York uniform.
Noah spent the first nine seasons of his career in Chicago — not exactly a media lightweight. And Noah, a Hell's Kitchen native whose dad, Yannick, was a star tennis player, knows there is no place like New York.
Some athletes have wilted under the bright lights and probing questions. Others have embraced it.
Noah? Noah has pinned to his chest this opportunity to play in the Big Apple.
He played with such fire and utter disregard for his well-being, he literally bled for the Knicks.
He took stitches in his left ear. He fouled out. He thumped his chest. He dished out a team-high seven assists. He played physical Marc Gasol.
He did this with that feeling one gets in the pit of the stomach when the teacher announces, 'Surprise quiz!'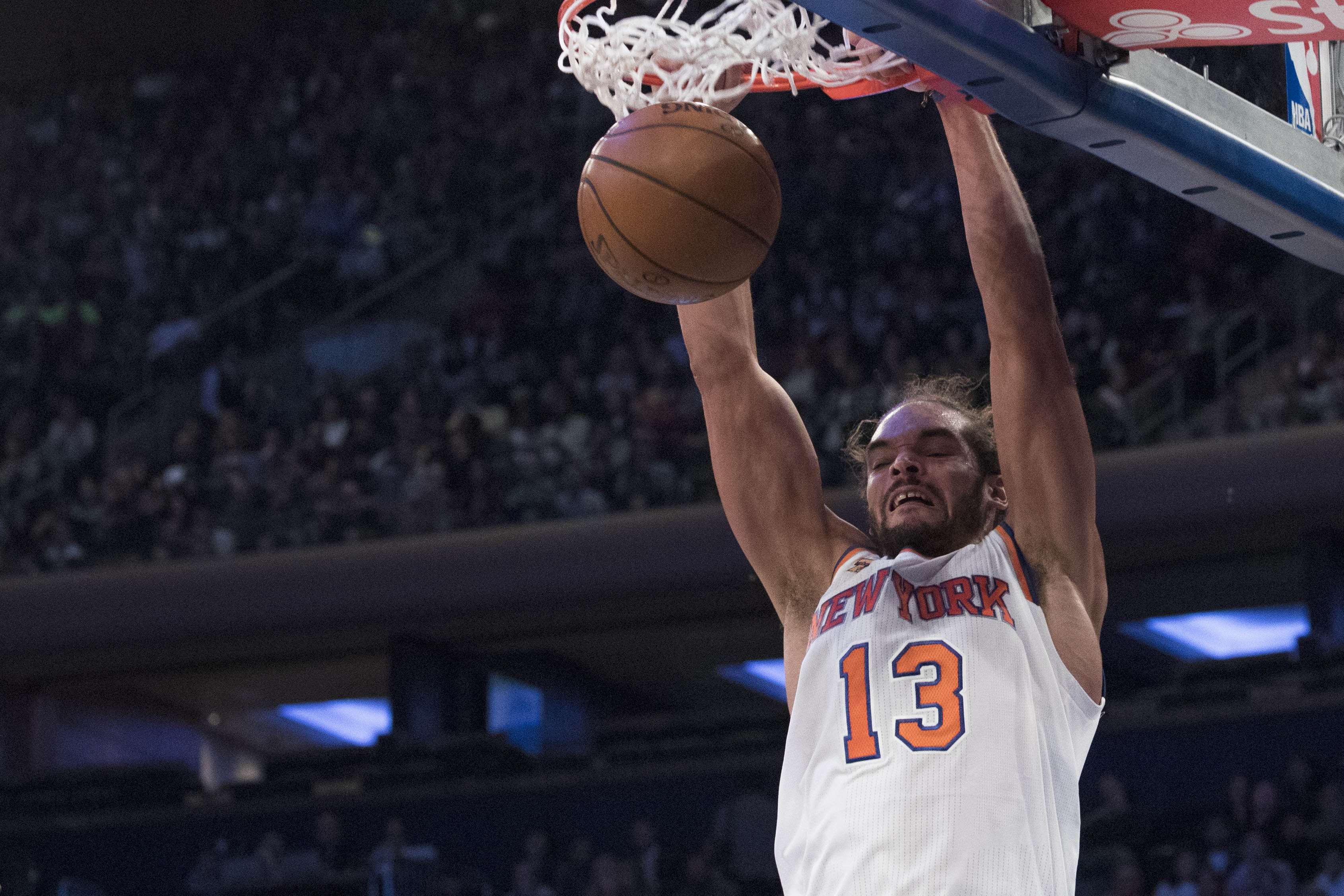 "Game 1 at The Garden, stitched up, I wouldn't have it any other way," Noah said. "Growing up here, walking distance [from The Garden]. I've been in this building for a lot of games as a fan.
"So just to be able to wear this jersey, it's more than special to me.''
I knew this long before Saturday night's win; I knew it when he transformed from a passive post player into a relentless big man in the Rucker League.
I knew it when after winning the national championship at Florida, he stood on the podium and bellowed, "Thank you, Tony Rosa!'' Rosa was his coach in the Rucker League.
You win the national championship; you don't forget where you came from.
Noah is a New Yorker. He walks the streets hoping that most of the time he'll go unnoticed, a tough task for almost a 7-footer. Several weeks ago when my son, Harry, spotted Noah on the street and politely (He called him, Mr. Noah) asked for a picture.
There you have it: 6′ 1″ towering over 4′ 5″ in a local neighborhood deli. That's New York.
So is this. Forty-five minutes after a game, 45 reporters still hover around your locker. Cameras and microphones at the ready. Noah's ear is bandaged. The emotion of the night seems to have drained him.
"It's always like this?'' asked Noah.
Yes, it's always like this. But Noah knows this because he walks the same sidewalks and pops into the same neighborhood deli as you and I.
WINNING FORMULA
In the season-opening loss to the Cavs in Cleveland, the Knicks placed just three players in double-figures and had more turnovers (18) than assists (17).
In the win over the Grizzlies, the Knicks placed five players in double figures and had more assists (24) than turnovers (12).
That's part of the vision coach Jeff Hornacek sees for this team.
"We're going to win by having everybody on our team play well,'' Hornacek said. "If it's just Carmelo [Anthony] that plays well or just Derrick [Rose], we're not going to win. If they all play well, we can have a chance against anybody.''
POINT GUARD MATCHUP – JOAKIM NOAH VS WILLIS REED
Willis Reed, forever The Captain, was reminiscing about what it was like to play for Hall of Fame coach Red Holzman.
"He said, 'You get the rebound, everybody on the team, you can take the ball down the court except Willis and Phil,'' Reed said. "I said, 'That's OK Red, I'm not going to worry about dribbling.'''
"Now Phil never listened. Phil said, 'Hey, I can take the ball down the floor.' Phil takes it down the floor, sometimes he kicked it out of bounds, way up in the stands. That was Phil. He wasn't going to be classified as a non-ball handler.''
With Reed in The Garden Saturday night, it might have seemed like deja vu. Several times Noah would grab a defensive rebound and dribble into the forecourt.
Rose, who played alongside Noah in Chicago, had to remind Noah he's a post man, not a point guard.
"Joe is Joe man,'' he said. "You saw him push the ball up the court a couple of times. I got mad at him a few times, but we have that relationship. I can talk to him. He doesn't take it personally. It's always trying to win the game.''
Perhaps Jackson, now the president of the Knicks, and Noah, can have a ball handling competition. Perhaps.